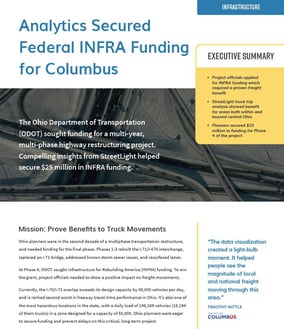 As cities and states prioritize infrastructure projects, the convincing proof of transportation analytics can make the difference between millions in federal funding and nothing.
The Ohio Department of Transportation (ODOT) and the City of Columbus sought funding for Phase 4 of a multi-year, $1.3 billion highway restructuring project. Ohio officials credit analytics, and a powerful data visualization, with securing a $25 million Infrastructure for Rebuilding America grant.
The grant application wowed stakeholders with pertinent data, including:
Truck traffic volume through the intersection
Trip origins and destinations up to 500 miles away
Local, regional, and national impact of the project
Get the case study to learn how you can easily apply these tactics to nail your next grant application.