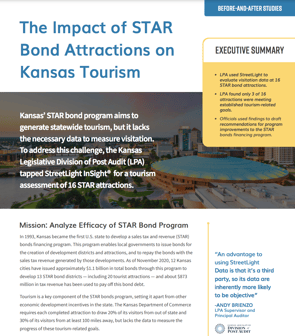 Kansas' STAR bond program aims to generate statewide tourism, but it lacks the necessary data to enable planners the ability to measure the anticipated growth in visitors.

To address this challenge, the Kansas Legislative Division of Post Audit (LPA) tapped StreetLight InSight® for a before-and-after assessment of visitor statistics at 16 destinations funded by STAR bonds.
StreetLight's Metrics helped the LPA to:
Measure site visitation data
Compare data with tourism-related goals
Identify common tourism patterns across successful sites
Draft program improvement recommendations
By downloading this case study, you learn how before-and-after studies measure tourism project impact, and how StreetLight InSight can provide these metrics in minutes.