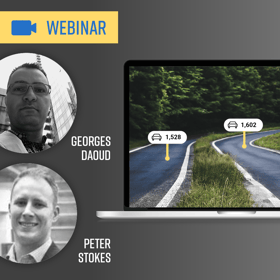 Looking for ways to access affordable traffic counts for the whole region? Get access to on-demand 2019 AADT counts for Canada that can help drive transportation decisions, influence policies, support environmental initiatives, and help with safety planning.
Watch the webinar to learn:
How to access AADT metrics on-demand without leaving home

How to get insights into the traffic counts on rural and urban roads in Canada

Trust the numbers: See why increasing sample size 2 to 4x since last year makes all the difference
The webinar features Georges Daoud, a StreetLight Solutions Engineer based in Ontario; Peter Stokes, a Territory Sales Manager based in Vancouver; and Claire Douglass, a StreetLight Data Scientist who joins for the Q&A to offer a deep dive into our AADT methodology and validation.