The Sarasota/Manatee MPO wanted to set a strong foundation for a multimodal network of bicycle and pedestrian facilities connecting key destinations, transit services, and the Shared-Use Non-motorized (SUN) Trail network.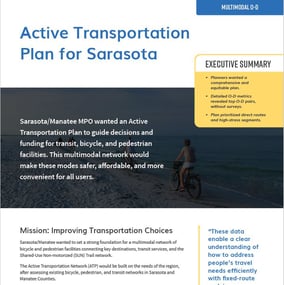 Download our case study to learn:
How planners structured the study to create an equitable plan.
The detailed Origin-Destination metrics that revealed the top O-D pairs, without surveys.
What direct routes and high-stress segments were prioritized.
See how Sarasota created a plan that prioritizes bike routes, route directness, and new routes on major corridors.