Seeking to shed light on congestion causes, the Globe wanted granular detail for traffic contributed by vehicles driving for on-demand services such as Uber, Lyft, UberEats, DoorDash, and GrubHub.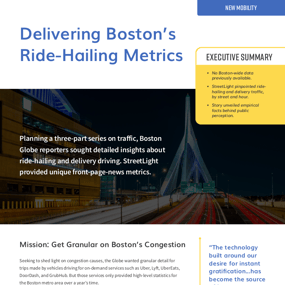 Learn how StreetLight's analysis confirmed that ride-hailing vehicles contribute substantially to congestion:
Data covered virtually every Boston roadway.
Granular metrics studied travel along specific roads, by time of day.
Analysis showed ride-hailing and delivery travel comprised up to 20% of congestion.
Download now to learn more about identifying ride-hailing and delivery travel.