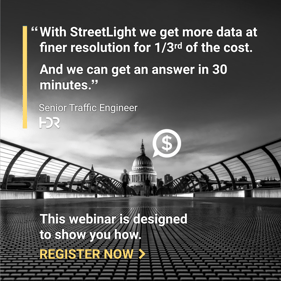 Responding to transportation's "new normal" requires better data, faster than ever before. And because of new pressure on budgets, it now needs to be cheaper.
From deciding which roads to keep closed to vehicles, which bridges to prioritize for repair, or which transit services to bring back online and how quickly — to managing different travel peaks due to remote workers — surveys or physical counts are too slow and too expensive.
Watch the webinar to learn how agencies digitize their data collection and onboard StreetLight in a matter of hours to make progress and save millions. We'll cover a range of metrics and their ROI:
Vehicle Volumes
Origin-Destination
Traffic Counts
Turning Movements
Bicycle and Pedestrian Counts
The webinar features StreetLight CEO, Laura Schewel and includes summaries of our own and 3rd-party validation.