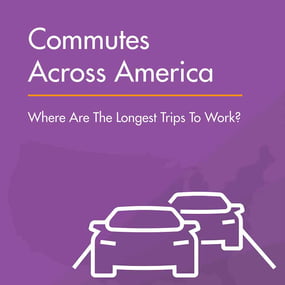 Using location data created by smartphones, we broke down the median commutes in the continental US by states, ZIP codes, and cities. Here's why we created this report:
The average American spends 52 minutes commuting each day
Inequitable access to jobs is contributing to and exacerbating economic inequality in the US
If you live in one of our "longest commute" regions or ZIP codes, you can now feel completely justified in complaining about your commute – if you didn't already!
The length of the commute, the demographics of workers involved, and even factors like weather determine what the best policy and infrastructure solutions are to reduce the environmental impact – and the life impact – of those commutes.
Download this eBook to learn more.