Planners wanted to know the source of Fort Lauderdale's 17th Street corridor congestion, and how to manage it without widening the street.
Saving money over pricey bluetooth or license plate analysis, Kittelson identified the surprising cause of congestion.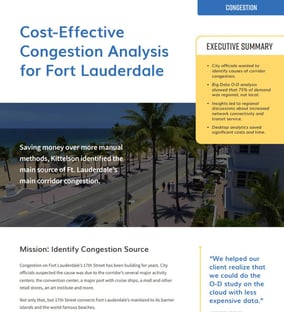 Our case study shares:
How Big Data O-D analysis showed that congestion was regional, not local.
What insights led to cross-regional discussions about mitigation options.
That desktop analytics saved significant costs and time.
Learn how StreetLight's metrics revealed far more than traditional O-D methods ever could have.