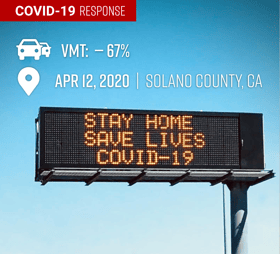 Vehicle Miles Traveled (VMT) across the U.S. are down approximately 70% between the middle of March and the middle of April. That number varies as widely as the range of stay-at-home initiatives across America's 50 states.
But what happened on Easter? We used our daily VMT Monitor to understand vehicular street activity for more than 3,000 individual counties on Sunday April 12th.
Watch our webinar to learn key regional and local results — and see how to use the VMT Monitor to understand daily VMT fluctuations in your counties.