No one likes traffic and congestion. But it's not always easy to figure out why it happens, especially in downtown districts. To reduce traffic, transportation planners, modelers, and engineers need to know: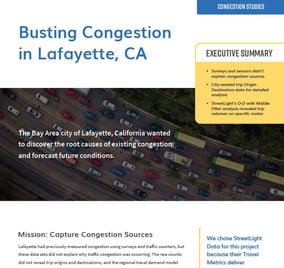 Where are drivers coming from?
Where are drivers going?
Are there ways to route trips outside of the congested area – while still providing drivers with efficient routes to their destinations?
Big Data can answer these questions.
Download our case study to learn how the city of Lafayette and the engineering firm Arup used StreetLight InSight® to uncover the causes of congestion.