A Silicon Valley city wanted to support California's environmental goal to have five million EVs on the road by 2030. But the city didn't know where to place the 400+ public chargers to encourage EV adoption and use.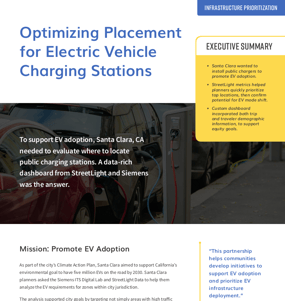 Download our case study to see how planners worked with Siemens and StreetLight Data to analyze EV demand and optimize EV charger placement, including:
City-wide hourly Origin-Destination data

Peak parking times and miles driven on subsequent trip

Personal vehicle vs. commercial truck activity

Traveler demographics

All mapped vs. locations of existing EV charging stations
See which five zones the city prioritized for deployment, and how StreetLight's EV placement metrics confirmed these were the optimal sites.