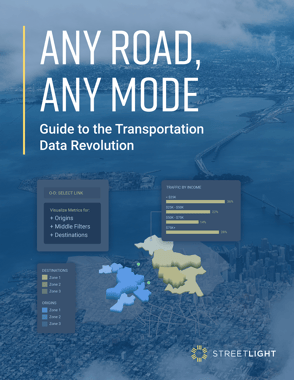 When and how citizens use transportation infrastructure is in flux, with plans for new lanes, bus routes, and tolls needing a re-think. Traditional methods cause detrimental data gaps for transportation investment decisions.
Get mobility data for all roads (even rural), all modes, at all times, and learn why this granular data is absolutely necessary for today's infrastructure needs. From an entire region down to a single road segment, you can analyze travel trends over time.
Any Road, Any Mode: Guide to the Transportation Data Revolution shares how to plan smarter and more cost-effective networks:
Add detailed bicycle, pedestrian, and transit analytics for safety and active transportation
Leverage demographic data overlays to support equity
Ask 7 key questions of analytics suppliers
See cost comparison of traditional versus on-demand analysis methods
Analytics in action: 4 real-life examples of data used in daily operations
Download now to see how organizations are using modern data to enhance sustainable, safe, and equitable transportation on their streets.