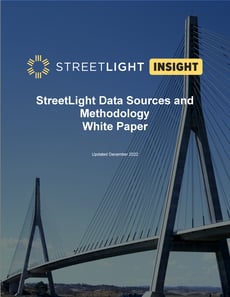 This white paper describes the methodology employed by StreetLight to develop travel pattern metrics. This document is relevant for all StreetLight InSight® metrics, whether they are available via the StreetLight InSight® platform, via data API, or via custom delivery.
Download this white paper to learn why transportation experts use StreetLight for their mission critical analyses, from identifying sources of congestion to optimizing new infrastructure to planning for electric vehicles. Learn more about our methodology, including:
Our data processing methodology to develop all metrics

How we normalize and expand data to derive StreetLight volume estimates
Transportation professionals across North America trust our metrics. Download our white paper to see the methodology behind the Metrics.