Pedestrian transportation planning requires reliable counts for pedestrian movements. Good quality pedestrian trip data is essential for planning, especially for safety and equity.

We have recently enhanced our multimode algorithm methodology, resulting in upgraded Pedestrian Volume Metrics that represent an estimate of real-world traffic for all times of day and days of week. Our results measuring pedestrian activity are proven against permanent counters. Learn more about our methodology and validation, including: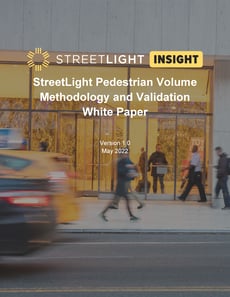 Our process for mode classification to identify active transportation movements
The proprietary machine-learning methodology for estimating Pedestrian Volume
Validation studies comparing StreetLight's Metrics against permanent sensors
Transportation professionals across North America trust our pedestrian metrics. Download our white paper to see why.