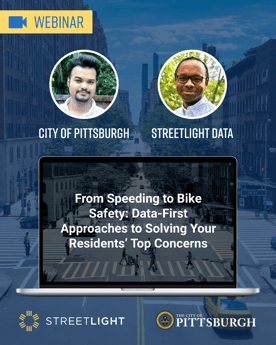 Looking to tackle safety initiatives in your city but don't know where to start? Having trouble identifying neighborhoods and communities where usage of Active Transportation or transit infrastructure is below benchmark levels?
Transportation analytics give public works officials, and planners access to powerful data sources for bicycle and pedestrian activity, top trip destinations, traffic volume, speed data, peak traffic hours, and more to inform safety and equity infrastructure and prioritize impactful projects.
Register for the webinar to learn:
How to address residents' concerns about speeding, cut-through traffic, bicycle and pedestrian safety, and other safety-related issues;
How to use transportation analytics to justify initiatives like speed bumps and other traffic calming measures; and
How StreetLight's Metrics can inform your infrastructure investment prioritization.
Join us to see how the city of Pittsburgh launched an equitable city initiative using StreetLight's comprehensive multimodal Origin-Destination Metrics to identify areas most needing safety improvements.
Watch now to learn about the insights that can help power safety and equity projects for your city.