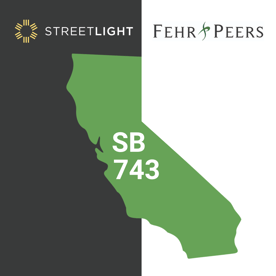 California's Senate Bill (SB) 743 recommends that public agencies in California use vehicle miles traveled (VMT) as the new metric to determine transportation impacts under the California Environmental Quality Act (CEQA). In response, StreetLight Data has developed new statewide SB 743 VMT metrics for quick assessment about under- and over-performing parts of your community. Watch this webinar to learn about:
StreetLight's methodology behind the VMT metrics, including SB 743 trip purpose categories, based on mobile location data.

Fehr & Peers independent validation study of the metrics using Census Block Groups in one California MPO.

Uses for big data in SB 743 implementation beyond screening including performance updates, compliance, adapting to rapid behavioral changes, new modes, and more.
This webinar features Ron Milam, Director of Technology at Fehr & Peers and Laura Schewel, CEO of StreetLight Data.