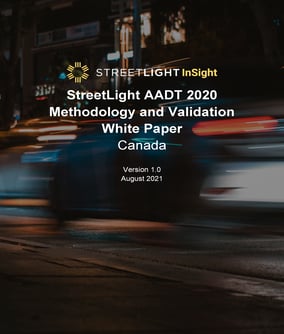 When you're looking for up-to-date AADT counts in your Canadian provinces, turn to StreetLight to get quick, easy, cost-effective AADT measures. StreetLight provides the industry with validated AADT Metrics at scale, enabling organizations to quickly and easily access 2020 traffic counts, during a year where many agencies weren't able to set up traffic counters. StreetLight InSight® provides AADT counts for virtually every road across Canada, including urban, rural, and local county roads. Our 2020 Metric is an update to our previously released AADT Metric, and it continues to outperform industry standards.
Read our white paper to explore:
How we improved our estimation for low- and high-volume roads with a new type of "hybrid" machine-learning model that was implemented in each province
The higher-quality data sources behind our AADT
Our rigorous approach to testing and validating the algorithm, using 2,510 permanent counters (or 1,974 unique-locations) across nine provinces
Download the white paper to learn why transportation experts trust our AADT methodology and validation.