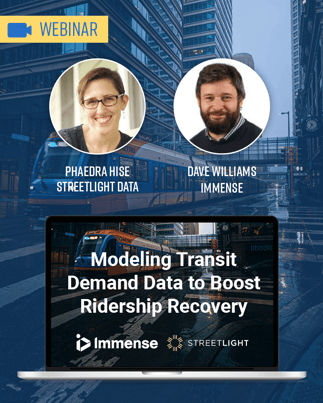 Transit ridership dropped by nearly 80% nationwide during the pandemic, but analyzing demand can boost its recovery. Imagine the insights you can glean by simulating optimal transit services using validated data for your city.
Watch the webinar to see how Immense, the leading simulation platform for mobility, powers their insights for the future of cities with StreetLight's comprehensive Origin-Destination Metrics. We'll demonstrate how to plan for the future of mobility by using simulations for testing new service routes and ridership alternatives, including:
Supplementing low-frequency routes with demand-responsive options
Appropriately deploying smaller vehicles
Identifying opportunities for paratransit
Watch now, and start planning a robust transit future for your city.