The Pro Football Hall of Fame Village projected a 10x boost in tourism, with the potential to affect everything from parking to hotel occupancy to traffic patterns. To better understand the impact on Canton-area residents, and guide potential solutions, the local planning commission contracted for a land use and transportation study.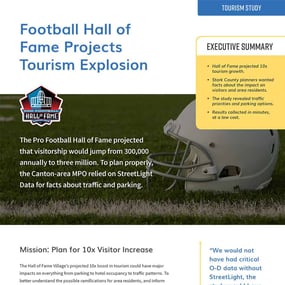 Using our Zone Activity analysis, planners were able to answer some critical questions, including:
Where visitors came from – nationally versus locally
Which city parking lots offered the most potential for visitor parking
What most-traveled route stood out for tourism traffic optimization
Learn how planners collected these quick, low-cost takeaways, and put the data to work.