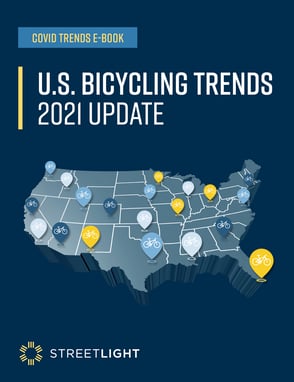 With reports of bicycles selling out early in the COVID-19 pandemic, the transportation community rejoiced about gains in bike ridership in 2020 and hoped for a permanent change in sustainable active transportation habits. But where is bike ridership now?
Now, 18 months into the pandemic, we used StreetLight InSight® to measure bicycling in America's top 100 metropolitan areas, mapped the results in an easy-to-peruse heatmap format, and extrapolated the causes of ridership trends nationwide to help city planners support their citizens' newfound habit.
U.S. Bicycling Trends 2021 provides key cycling stats for all 100 metros and includes the following:
Top 100 national rankings based on percent change in ridership since pre-pandemic
Data-based POV on "the why" behind cities gaining and losing ridership
A local data spotlight, zooming in on ridership in central Seattle
Easy-to-use location-data tools to help you analyze your own locality for bike activity on all streets, not just the few with physical counters
Download the eBook for the first national dataset of its kind, and use our granular 2021 cycling insights to inform your investments in bike infrastructure.