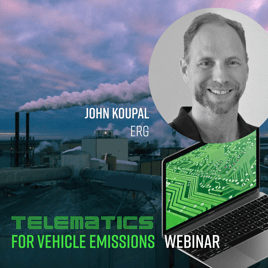 Eastern Research Group, Inc (ERG) recently evaluated StreetLight's personal vehicle Metrics for emissions modeling, applying the data to case studies in the Denver metro area to assess strengths and weaknesses of telematics for developing emission inventories.
The paper's authors found that the telematics datasets were most influential with respect to the ability to estimate VMT, as well as tracking large changes in VMT during the COVID shutdown and initial re-opening phase.
Example applications covered in this webinar include:
Estimating regional vehicle miles travelled (VMT) for annual emission inventories
Tracking the VMT impact of COVID shutdowns
Generating location and time-specific vehicle activity inputs for project scale "hot spot" air quality analysis
Watch the webinar to learn from the study's author John Koupal, who examines the validity of using telematics to serve a growing range of emission inventory use cases.