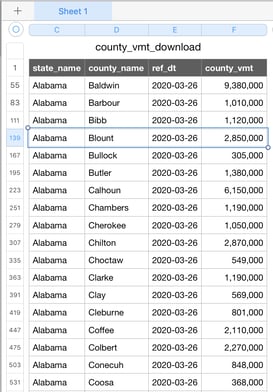 StreetLight provides daily estimates of total vehicle miles traveled (VMT) for America's 3,000+ U.S. counties, starting with January 2019 and updated three times a week. Get the most recent facts to inform your estimations for gas tax shortfalls, pollution changes, and more.
These VMT Metrics (provided in a CSV format) are separate from our StreetLight InSight® platform, and not included with a StreetLight InSight® subscription.
Please fill out the form to contact us about accessing VMT Metrics to analyze the impact of COVID-19 on transportation.